Podcast: Play in new window | Download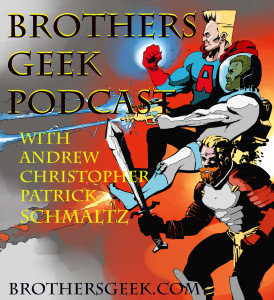 We report on the Apple announcement of the Iphone6, 6Plus and Apple Watch.  We establish Christopher likes batteries.
Seen:
"The Leftovers" Season 1 Finale delivers on multiple levels.  Storytelling at its finest.  It brings all the Feels.
Andrew is re-watching "Arrow" Season 1 with his lady.  She probably has a thing for Stephen Amell.
Christopher and Patrick discuss most recent "Doctor Who".  Mixed feelings all around.
Read:
We all slack on "Batman Eternal"
Christopher is through "Iron Fist: The Living Weapon" #6
While reading "Ready Player One" Patrick reflects on his own gamer experience.  We feel this is a good thing.
Andrew reads the newest book in the Emberverse series.  Its good adventure.
Played:
"Destiny" is played by all
Reviews are good to great, Andrew has no idea what he is doing.  Just likes shooting stuff.
Chris and Patrick have more nuanced reactions.
Trivia:
Andrew bungles it.  The Boys give him appropriate amounts of grief
1,015 total views, 1 views today