Podcast: Play in new window | Download
Subscribe: Apple Podcasts | RSS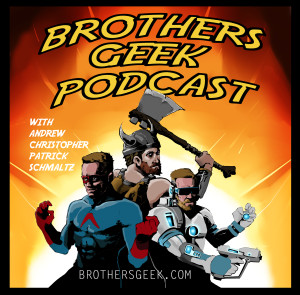 Recorded on September 13, 2015
Discussion:
We discuss the new television shows premiering next month.
"Supergirl" seems like it will be great girl power tv and we hope gets the vibe right. Melissa Benoist gets the Not Ugly Award.
All are excited for "Arrow", "Flash" and "Legends of Tomorrow"
We continue to lament how badly "Gotham" gets it wrong. On all levels.
Seen:
Andrew has restarted "Star Trek Voyager". Patrick approves and agrees it has a very different vibe than other Star Trek shows.
Christopher has dived into "Longmire" season 4 on Netflix. "Strike Back" is in it's final season and continues to be top fun. And he is pleased both it's leads have found gigs on NBC shows this season
Patrick actually pays money and spends time to see "Fantastic Four" It's terrible. The movie is disjointed filmmaking. Not even solid performances can save it.
Read:
Andrew completes "Caliban's War" in less than seven days. Chris and Andrew refrain from in depth discussion as Patrick is only half way through. Andrew has started "The Martian" and will finish it by the time the movie of the same name is released.
Christopher sings the praises of the "Star Wars". "Star Wars: Vader" continues to be the strongest story line. He is on Book five of the Expanse "Nemesis Games".
Patrick reads "Caliban's War" He feels weird being the only not done yet.
Played:
Andrew and Patrick play "Castle Panic" and drink beers with Legendary Listener, Adria and Patrick's Partners-in-Crimer when Andrew and Adria visited Portland last week.
Andrew discuss Destiny 2.0
Chris plays "Diablo III", he has created a season 4 character. And is playing older characters as well. He, of course, continues with "Rocket League".
Patrick plays "Castle Panic" and gets drunks with Andrew in Portland. He downloads and plays Dungeon Quest a fun mobile app game for Apple and Android.
Trivia:
When Anakin is brought before the Jedi counsel in "The Phantom Menace" he is asked to divine certain images from a computer screen. What are the four images he divines in the correct order?
The Boys have no idea.