Podcast: Play in new window | Download
Subscribe: iTunes | Android | RSS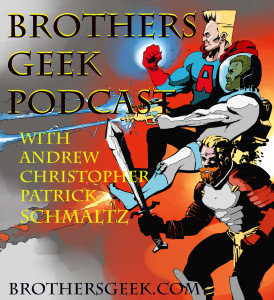 We took a week off and we come back better than ever!
News: We report on the scheduled release dates for every comic book movie for the next decade ( or so).  And we go on too long about Marvel's Civil War mini-series from 8 years ago.
Seen:
The Brothers Geek love "Fury".  One of us hates Brad Pitt a little too much then is reasonable.
Christopher is fully embracing the new "Doctor Who".  Patrick is behind.
Andrew and Christopher love the first two episodes of season 5 of "The Walking Dead".  Patrick doesn't watch the show, is wrong.
Read:
Christopher is racing to finish book one of the "Powder Mage trilogy".  The story has evolved in some very interesting directions.
Andrew reads "Hawkeye" by Matt Fraction.  He loves the new character of Kate Bishop.
Patrick listens to Frank Hebert's "Dune" on the Audible app.  He loves it.  The Dune love-fest follows shortly.
Played:
Lots and Lots and Lots of "Destiny".  We have issues with the story (as it makes no sense) but the game play is unquestionably fun.  We all have 20+ leveled characters.
Trivia:
The boys are challenged on a question concerning one of our favorite and more prolific comic book writers, Brian Michael Bendis
1,175 total views, no views today