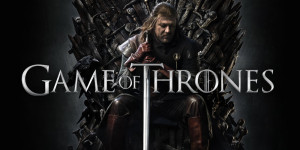 )
By Patrick Schmaltz (7-17-14)
I have been listening to A feast for Crows, the fourth book in the A Song of Ice and Fire series, or the upcoming season Five of Game of thrones. As I have been listening something popped into my head, these people are "humans". So why are they so horrible to one another? I mean Earth humans are pretty horrible to one another, but we do not rape and murder like these guys do. Maybe we do, but not as much anymore or not in modern civilized society. Westeros recorded history has been about 12000 years old. They have had the technology to forge and create hard metals, like Valyrian steel for at least that long. They have had the concept of construction and engineering for at least the last 4000 years. So why has their society not advanced past where they are now? I hate to say this but, the missing element might be Christianity. From what I have seen, none of the religions in Westeros teach love thy neighbor, turn the other cheek, or give a promise of heaven after death. Sacrificing yourself is a key term in christianity also, which most people seem kind of selfish or want revenge after some act done against them.
I am not saying that all christians follow these ideals, or that Christians have not killed millions of people over the years, just that the idea of helping others is the foundation of the religion. In the past 2000 years, Christians have reshaped how people treat each other. Sure there were some growing pains, the Crusades, and Spanish Inquisition, but humans have come to understand one another and go toward a civilized idea of looking at our fellow man. I think much in part to christianity, and the promise of going to heaven.
The closest religion in Westeros, looks to be, the Lord of Light religion "one true God", and Stannis, seems to be the chosen one of this religion. This makes me think of Constantine the Great. Beric Dondarrion ( leader of Brother without Banners) has even been brought back to life, by the Lord of Light's power. A resurrection of sorts. Blood plays a central role in the Red Priestess' power magic. Magic is a funny part of this equation.  People perform magic given to them by some Deity, and people will follow this religion, because they have seen the power of the god, or so they think. Stannis might not be seeing the power of the Lord of Light, but seeing magic performed by Melisandre, and saying it is him showing Stannis the future. Is this true? or just using Stannis' faith to manipulate him, to Melisandre's ends? Wouldn't be first time in history a priest used religion to manipulate a man of power.
This is just a theory, but I am curious about the "what if" elements of this idea. Would the promise of an afterlife affect the world of Westeros? I am sure there would be wars of this new religion, and not everyone would convert at once. Would Christianity make Westeros a better place to live? Maybe if they stop killing each other for one second, they would make advances in technology and peoples rights. Most people would probably say that Earth is horrible place, and I would ask, Do you think its just as bad as Westeros? Would Jesus Christ's message go on deaf ears in Westeros? It's no doubt that his fate would ultimately be the same in both worlds.
1,176 total views