Podcast: Play in new window | Download
Subscribe: RSS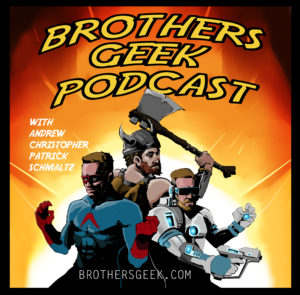 Episode Ninety-Five: Break's over, What's Next?
Recorded 8/19/2018
Life intervened and kept us from recording a new episode for almost six weeks.  We moved, we sold houses, we went on vacation and we worked for one of the largest media companies in the world.  You will have to listen to the entire episode to learn which of us actually did these things.  The Brothers discuss Marvel's latest triumph, Ant-Man and The Wasp.  The possibility that Mission Impossible: Fallout might be the very best of the franchise. Andrew sells Patrick on Sharp Objects.  Patrick sells No Man's Sky to both Chris and Andrew.  Patrick and Chris avoid the addiction machine of World of Warcraft: the Battle for Azeroth.  Summer is over the kids are back in school and new episodes are on the way!
Trivia is Marvel Cinematic Universe themed and the doldrums are upon us.
B.C.
2,210 total views