Podcast: Play in new window | Download
Subscribe: RSS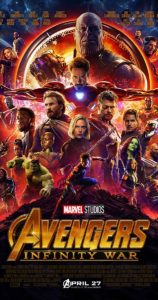 Episode Ninety-One: The One Before We see Infinity War
Recorded April 25, 2018
This episode feels major.  Because it is.  If you are looking for a primer on the Marvel Cinematic Universe to date, look no further!  We discuss all 18 films.  We pick our favorites and our least favorites and some of our picks are surprising.  We don't shy away from the missteps and we sing the praises of the unexpected triumphs of this unique experiment in film history.
We share our hopes and theories for Avengers Infinity War.  And we reconcile ourselves that  some of our favorite characters may not make it out alive. We confirm our plans to watch the new film and rest assured our next episode will be an Infinity War One Shot.
We will see you on the other side.
Wakanda Forever!
2,272 total views, 1 views today