Podcast: Play in new window | Download
Subscribe: RSS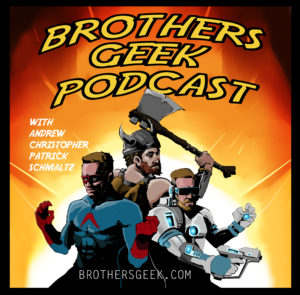 Eighty-Three: The One Before the Brothers see The Last Jedi.
Recorded 12/6/2017
Hello everyone and welcome back to our podcast!  We catch up after weeks of not talking to each other, like at all.  Christopher is a little salty about this and he calls Patrick out.  We overcome technical issues.  This podcast is NOT SPONSORED by SKYPE.  We work on a new platform and things are much improved.  We talk Justice League.  We talk the CW Arrow-verse Crossover event.  And which was better, and you might be surprised how it comes out.   Our Not Ugly Award goes to Jason Momoa.  Congratulations Aquaman!  We, again, sing the praises of Marjorie Liu's and Sana Takeda's Montress.  Christopher plans on recommending it for book club.  We plan on lots more play in Destiny 2 now that the Curse of Osiris DLC has dropped.
We have all made plans for to see Star Wars The Last Jedi the week of release.  We are literally vibrating with excitement.
Our trivia is Star Wars themed.  Christopher ALMOST pulls it off, Rain Man style.
Our next episode will be our In-Person Holiday Year End Review!
H.S.F.
1,025 total views, 1 views today