Podcast: Play in new window | Download
Subscribe: RSS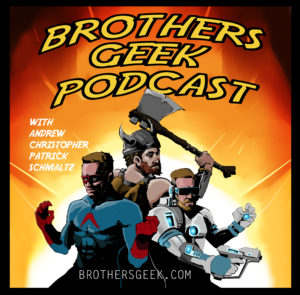 Episode Eighty-Four: Our Christmas Special
Recorded 12/25/2017
We record in Andrew's apartment on Christmas Day.  We talk long and hard about Star Wars The Last Jedi.  We spoil almost everything.  If you haven't seen it, go see it, and come back to us.  We discuss our favorite things we saw, played and read this year.  We could talk for hours and hours about all the things we liked this year and we nearly do. Each Brother gives us his hopes for the coming year and beyond.  And we make a resolution! We will record two episodes a month!  We promise!  (Please don't hate us if we can't live up to our promises, like Andrew Garfield said in Amazing Spider-Man, making promises you can't keep are the best kind).
Trivia is Christmas themed!
From all the BrothersGeek to all our dear Listeners, have a safe and happy Holiday Season and see you all in 2018!
H.S.F.
937 total views, 1 views today