Podcast: Play in new window | Download
Subscribe: RSS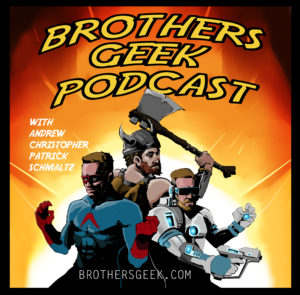 Episode Seventy-Six: Patrick's covered in Poo Water.
Recorded 7/10/2017
The Brothers are back!  Back in their respective cities and back to work!  We all saw Baby Driver and Spider-Man: Homecoming.  Surprise, surprise, each of us have strong opinions about both films.  Chris is undertaking a complete re-watch of Game of Thrones before the new season starts up. Netflix has premiered a Castlevania animated series and Chris is hooked. Patrick is reading an intriguing mix of noir, magic and economics with The Black Monday Murders. He is also working to be current on Invincible.  Andrew has stagnated on American Gods.  He is very excited for the upcoming film adaptation of Murder on The Orient Express (check out the trailer below) and has begun that classic and will finish before the movie is released in November.  Christopher charges ahead with Rat Queens.  We all download the free to play Marvel Heroes Omega.  An action RPG that could easily empty our wallets if we let it.  Chris lays down some coin and buys Black Panther.  He has no regrets.
Trivia is Game of Thrones themed!  The new season premieres July 16th!
Winter is here!
Attachments area
Preview YouTube video Murder on the Orient Express Trailer #1 (2017) | Movieclips Trailers
Murder on the Orient Express Trailer #1 (2017) | Movieclips Trailers
1,085 total views, 1 views today