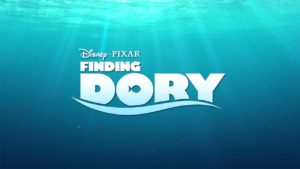 By Patrick Schmaltz
It's understood these days that when Pixar makes a movie, it's good for all ages. They seem to know how to tell a great story – one that encompasses heart, well crafted animation, and comedy. Finding Nemo was one of their hallmark all-time successes. I was an adult without children watching this film, and I enjoyed it as much as everyone else did. It makes sense that they would would want to make a sequel to this blockbuster hit; it just took them thirteen years to do it.  
Story (Plot) 3-5 Finding Dory takes place one year after the events of Nemo. Dory is presently living in the reef with Marlin and the eponymous Nemo. Slowly she is starting to remember that she has a family out there, which she has forgotten. She has suffered from short term memory loss her whole life, as seen through adorable Baby Dory flashbacks. She has a series of memories and needs to go find her parents and piece it all together. Marlin and Nemo owe her one, so they go with her to help. This film has a much more a bleak overtone than Finding Nemo. What this story lacks in laughs, it makes up for in emotion-screwing heavy shit.
Production (Directing, Editing, Music)4-5 Pixar does it again. But there hasn't been much improvement in the level of quality animation in thirteen years – there doesn't really need to be – it just looks like the same movie. Maybe if you put them shot for shot next to each other you might see a difference, but hey, if it ain't broke, don't fix it. I just wish, maybe, that it looked crazy good. In 2003, Nemo looked crazy good. Now, Dory just looks normal. The music is exactly the same, again: ain't broke.  The film's pacing, however, is a little off – things could have moved things along a little faster. You know, gotten to the point a little sooner. Much of the film is told in flashbacks for emotional impact, which problematically creates a herky-jerky movement.
Characters (Likeability, Acting) 2-5 I love the characters. Albert Brooks as Marlin is good, but he's a side character in this film. Nemo is the child voice of reason, and the glue that holds it together. Here is my major gripe with this movie:  Ellen Degeneres as Dory takes the reins as the main character and that's where this movie fails. I don't know that Dory is a strong enough main character. Sure, she is great as a foil in Nemo. But when the main character keeps forgetting what she's doing, all I felt was frustration. Additionally, the memory loss bit gets old, seems inconsistent, and has no rhyme or reason. She is coherent one second, then forgets the next, and vice versa.
Writing (Dialogue, Cleverness)3-5 They really hit you in the face with some heavy family tragedy here. It's a good story, and you care about these characters, but man is it sad if you think about what these "people" have gone through. This is all well and good, but where are the jokes? The side characters just are not as funny as the first film. Nemo was funny because of the "Mine" idiocy of the seagulls, and the vegetarian sharks. Dory's side characters come across as just not as funny or memorable. The best character in my mind is the Octopus Hank played by Ed O'Neill, who is mostly a grump. This movie just lacks the forethought and clever characters. Also, Sigourney Weaver, is all I will say.
Emotions (Was it; Fun, Scary, Sad, Do I care)3-5 They succeeded in making us sad and give a crap about finding Dory's parents. But where is the whimsy of the first one? Dory just feels way too self-serious. I want fun! I want Adventure! Instead we are given a sad story about losing family. It's a good story and all, but I think it misses the tone set by the first film. The message of the film mostly centers around how Dory has a handicap, and she inspires the characters around her with how affable and genuine she is. The problem is, you suddenly feel bad about laughing at someone with a disability. They are teaching children some valuable lessons about life, I understand that. But don't sully my previous enjoyment of a film, now that it has some darker overtones. Dory also never goes it alone – she always has someone there to help her. Someone to guide her, or physically carry her to her destination. I wanted that moment for her character to figure it out alone, yet instead she is guided and falls into things seemingly out of blind luck. Where is the lesson about you can do it yourself?
Overall score 15-25 This movie is very well made, and is already making lots of money, but it just feels soft and flat to me. No big moments of hilarious scenes. No hilarious quotes that stay with you. You don't walk about of the theater singing this movie's version of "Just Keep Swimming". Dory will not be remembered. To my mind, the best word to describe the film is "meh" – it's good but not great. It's funny, but not as much as the original. It's clever but lacks genius. I am sure the kids will love it.
929 total views, 1 views today