Podcast: Play in new window | Download
Subscribe: RSS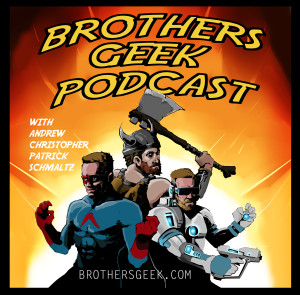 Episode Fifty One: Our Nautical is over 9000!
Recorded March 8th 2016
We're back!  It must have seemed like we were wandering in the wilderness, or combat training in a spaceship with its gravity turned up to 10x Earth normal, or we stepped into a red sun chamber and gave up our powers because we decided we loved a woman more than our mission to protect the people of Earth, or a super villain severely injured our spine and we spent months convalescing whilst our hasty appointed successor descends deeper and deeper into violent madness.  All those things could be could true or we just had trouble finding 90 minutes to talk to each other.
Seen:
The new "Ghostbusters" trailer is hotly debated.  Chris actually agrees with Andrew on something.
Andrew binges on a pirate show.  Patrick is in love with a weird show about people who do magic.
Read:
All read new comic "Power Man and Iron Fist#1". It's our new monthly, read along with us!
We also plan on reading "Black Panther" when it drops on 4-6-2016.
Played:
The BrothersGeek Fireteam complete a quest in "Destiny".  Chris and Patrick play more "Divinity", they use a lot of MMO jargon.  Andrew tries to stay awake.
Contact Info
Twitter @Brothers_Geek
Email Brothersgeekpodcast@gmail.com
Facebook Facebook.com/brothersgeekPodcast
2,462 total views