Podcast: Play in new window | Download
Subscribe: RSS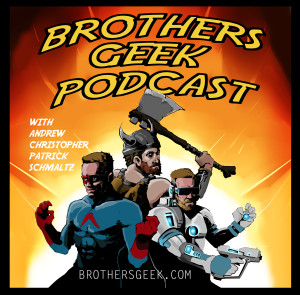 Recorded 2/10/2016
Discussion
We open our hearts and discuss our favorite geek love stories.  This leads us down some unexpected but not unwelcome rabbit holes.
Seen:
We all have seen Tarantino's "Hateful Eight"  We all enjoyed it.  Andrew feels it's a bit safer than most of Tarantino's films
We all are current with "The Expanse" on SyFy.  We have no issues where season 1 ended.  The addition of the Avasarala character is a welcome change from the first novel.
Read:
Chris is current on "Rat Queens" most recent issue.  We continue to recommend this title our full throated support.  Andrew has been reading "Magnus Chase and Gods of Asgard" whenever he is at a Barnes and Noble, which admittedly, is quite often. it's a fun, simple adventure.
Patrick doesn't offer much.  He is ridiculed.
Played:
Andrew plays "Star Wars: Battlefront", it's fun  but not FUN!
Chris, Andrew, and Legendary Listener Shawn played "Destiny" on Xbox One recently and they just sucked.  It was two hours of struggle bussing.
Patrick and Christopher plays "Divinity: Original Sin" on PC together and this prompts deep dives in the "role playing" aspects of the game.  They plan on streaming their adventures on Twitch very soon.
Trivia:
"Deadpool" first appeared in what comic title in what year?  The Boys are surprised by the correct answers.
H.S.F.
2,517 total views