Podcast: Play in new window | Download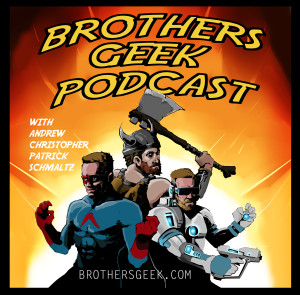 Episode Forty Seven:
2 Days, 22 hours, 43 minutes and 15 seconds from now
….
Recorded 12/14/2015.
We read an email from listener Chris Scott, he has some interesting things to say about our Star Wars Trailer One Shot.
Seen:
We all have watched the first episode of "The Expanse" through various channels. Episode 2 will air on 12/16.  We all love the books and can't wait to see if the series get's it right.  It has the potential to be "Battlestar Galactica" good.
The "Flash/Arrow" crossover is high quality and launches the "Legends of
Tomorrow
" well.
"Arrow" is all over the place.  Almost terrible right now.  Even Stephen Amell's Not Ugliness isn't saving it.
Read:
Andrew reads "Nemesis Games" FINALLY the plot gets moving
Christopher reports on "Childhood's End".  It is Arthur C. Clarke's masterpiece.  And he wrote "2001: A Space Odyssey" so…. That's saying something.
Patrick quizzes us on a fantasy novel he is reading.  It sounds like a lot of things we have read before.
Played:
Andrew and Chris report "Destiny's" December Update. Sparrow Racing League and the future of "Destiny" being free to play events rather than huge DLCs.
Andrew has purchased Halo 5 Xbox On but  has yet to hook it up.  He has been BUSY!
Patrick is playing "Fallout 4" and streaming on Twitch.  He dies a lot.  It's pretty awesome.
New! Brothers Geek Twitch channel Twitch.tv/brothershgeekplayed
New! Brothers Geek Youtube channel Youtube.com/brothersgeekpodcast
Trivia:
In "Episode VI: Return of The Jedi", Yoda, on his death bed, describes the Dark Side of the Force in 3 words. What are those words?
The Boys fail, rather terribly.
H.S.F.
1,758 total views, 2 views today