Podcast: Play in new window | Download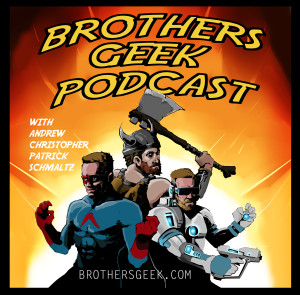 Recorded 10-4-2015
Discussion: Favorite Mars related movie.
Christopher picks "Total Recall" as his favorite. He thinks it's real and not a dream. Andrew and Patrick both have seen "The Martian" Christopher has not seen it yet. He will see it today. Both Andrew and Patrick think "Red Planet" is a solidly entertaining film set on Mars
Seen:
Andrew and Christopher watch "Blindspot" The main conceit of the series is dumb but the two main actors are very engaging.
Andrew reports on "Agents of S.H.I.E.L.D" hopes they incorporate more of the Marvel comics Inhumans. Black Bolt is a great character.
Christopher watches "The Blacklist" and "Fear the Walking Dead". He refused to disclose spoilers on the one thing Andrew cares about on that show. "Fear The Walking Dead" is awesome and fills in the time gap nicely "The Walking Dead" created with Rick's coma.
Patrick is through season 8 of "Doctor Who". He still has issues with Capaldi's Doctor and Jenna Coleman's Companion.
All are excited for Season two of The Leftovers. IT BEGINS OCT 4Th!
Read:
"The Aeronauts Windlass". Jim Butcher's new steampunk series. It has talking cats. Chris is enthralled. Patrick is scratching the surface and it's awesome fun.
Christopher has dived in "Marvel's Secret Wars" by Jonathon Hickman. It has created an interesting new world to explore.  Andrew is still deep in "The Expanse" books.  "Abbadon's Gate" started slow but has since punched the accelerator in the face and show no signs of letting up.
Played:
Chris and Andrew give "Destiny The Taken King" rave reviews. More content, more fun than Vanilla "Destiny". Chris also has gotten into "Forza 6" The game creates a intense and realistic racing simulation.
Patrick mobile gaming continues with "Dungeon Quest". He is Level 40 and 50
th
stage of 200 stages.  He may break his own rule and spend some money on mobile gaming unlock new content.
Trivia:
In "Episode Two: Attack of the Clones". The Battle of Geonosis is the climax of the film. Who is the Leader of the Geonosian people who ordered the execution of The Jedi and Senator Amidala?
It's funny and the Boys have no idea.
1,840 total views, 1 views today