Podcast: Play in new window | Download
Subscribe: RSS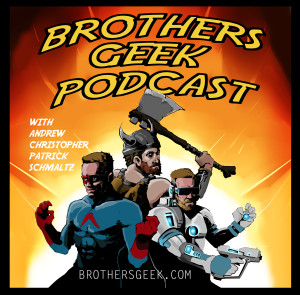 Episode Thirty Eight: Live! San Diego Comic Con and Moving Weekend Hype!
recorded July 19th, 2015.
We record at Christopher's house in Phoenix. AZ.  Patrick is in town as we help our parents move out of our childhood home.
Discussed: Christopher and Andrew report on San Diego Comic Con 2015.  We detail our favorite moments from SDCC.  The madness of Hall H is real.  The hidden gems of the Comic Con experience and we made some friends!  Shout to the VT Ladies, Brooke, Megan and Jordon!

Seen: We all saw "Ant-Man" on July 17th.  We are all pleasantly surprised at how much fun the movie turned out to be.  It is a superhero heist movie that plays to the strengths of it's comedic actor lead, Paul Rudd.  It very nicely sets up Phase 3 movies to come. Patrick finished "Penny Dreadful" Season 2 and he is terrified like the rest of us.  The highlight of this season is Billie Piper's character's transformation.  Just watch.
Read: Andrew is engrossed in James S.A. Covey's "Leviathan Wakes"  The Brothers will undertake to read the new DC Comics weekly, "Batman and Robin: Eternal" when it launches in October.  Patrick firsts needs to finish "Batman: Eternal".
Played: All played "Rocket League".  It's soccer with remote control cars.  It's frenetic and fun and has perfect controls.  Christopher has played many many hours.  Even watching matches is fun.  We all watched Patrick play an online match and were cheering and getting truly obnoxious.  Real Hooliganism!  Andrew reports on big changes to "Destiny" coming in September.  Hopefully, it will re-balance the game play in the best ways possible.
Andrew FAILS.  NO. NEW. TRIVIA.
Chris saves the day though.
H.S.F.
2,294 total views