Podcast: Play in new window | Download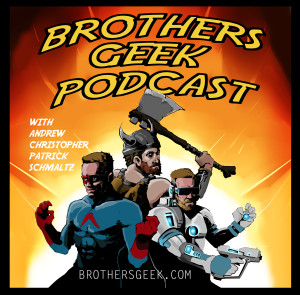 recorded May 31st, 2015
Discussion: Chris and Andrew attend Phoenix Comicon. Chris reports on an impressive panelist.  We both sing the praises of the convention authority for solving logistical traffic issues.  They learned from last year's disaster.
Seen: All have seen "Mad Max: Fury Road" at least once.  It amazes on multiple levels.  The film is a prime example of the writer's maxim, "show don't tell."  The "Flash" finale is sublime.  The "Arrow" finale disappoints.  We agree the "Ras Al Ghul" storyline was a poor choice this season.
Read: "Rat Queens Volume 1" and "Thor" comics are entertaining, both Chris and Andrew are enjoying female centric comic books right now.  Patrick fails once again to finish "Batman: Eternal".  Appropriate levels of shit are given.
Played:  Andrew and Christopher play the "Destiny House of Wolves" expansion. It's the best expansion so far.  Prison of Elders is the endgame experience the Brothers Geek Fireteam has been waiting for. Chris loves "The Witcher 3" so so much.  He has barely scratched the surface of all the content.  Patrick recommends "Marvel: Future Fight" for mobile gaming.
Trivia:
"Game of Thrones" themed:  Name the seven aspects of the one God of the Faith of the Seven?
Both Brothers Win!
2,148 total views, 2 views today