Podcast: Play in new window | Download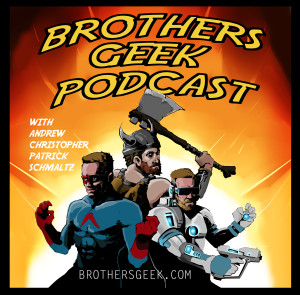 Happy Birthday to Christopher's daughter, Kristin, who turned 15 the day before we recorded this episode!
Happy Birthday to Daniel's daughter, Katelynn, who turned 13 the day of this episode!
Kristin received a "Supernatural" Con ticket from her parents for her birthday.  She cried tears of joy.
We discuss the "Con culture" of Gold level passes for Supernatural Con.
We discuss the casting of Scarlett Johansson as the lead in "Ghost in the Shell"  also we examine the lack of box office hits in the recent Oscar Nominations.
Seen:
All discuss "Agent Carter"  We all enjoy it to varying degrees.  Chris and Andrew are troubled by the heavy-handedness of the some of the show's themes.  Hayley Atwell is a delight.
Christopher watches the premieres of "Helix" and "12 Monkeys" on SyFy.  "Helix" is particularly strong.
Andrew watches "Galavant" really because nothing is on on Sunday nights anymore.
Read:Andrew is caught up on "Batman:Eternal".  All applaud his diligence.  The series has resumed its narrative momentum. Patrick finishes "The Fellowship of the Ring".  He loves the world of "Middle Earth"Chris reads Book two of the "Powder Mage" trilogy.  Also he is current with "Iron Fist" story is strong.  He is not impressed with the art style.
Played:Christopher has discovered "Banner Saga" for his tablet.  He is very absorbed.Andrew gets a very rare weapon drop in "Destiny".  It requires copious grinding to upgrade.  Patrick had it drop once before he didn't know what it was and dismantled it.  He is ashamed of himself. Patrick describes a table top game "Betrayal at House on the Hill"  It's intricate and rewarding.
Trivia:  How many total minutes for all 6 films in the original and prequel "Star Wars" trilogies?  Someone gets it right!
1,023 total views, 1 views today