Podcast: Play in new window | Download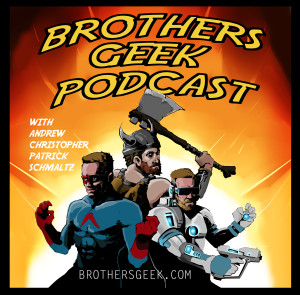 New Year, same Goof Balls.
We discuss New Year's Resolutions, goals for the next 365 days and the arbitrary-ness of the human year.
Seen:
Andrew gets caught up in a "Harry Potter" marathon on cable.  He is powerless against it.  Chris and Andrew discuss "The Imitation Game".  It's entertaining high art.  All the boys talk the most recent "Hobbit" film and the trilogy as a whole.  We are all disappointed.  Patrick finishes "The Legend of Korra" and finds its surprise ending a little too surprising.
Read:
Andrew is current with "Thor".  The story is great and art is flawless.  Chris approves as well.  Christopher continues to put us all to shame by being current on "Batman: Eternal".  Patrick is 10 hours into listening to "The Fellowship of the Ring" on Audible.  he has 3,984 hours left. (That's an exaggeration, but not by much).
Played:
Christopher is sucked into Garrison Management in the "World of Warcraft".  It's fun but time consuming.
All discuss "Destiny"  Andrew has gotten lucky with three Legendary drops in 10 days.  It has renewed his affection for the game.
Patrick and Chris both received table top games for Christmas.  They are excited to dive in.
Trivia:
The boys are challenged to guess the World Record completion of Crota's End raid in "Destiny"  The correct answer is astonishing.
1,594 total views, 1 views today