Podcast: Play in new window | Download
Subscribe: RSS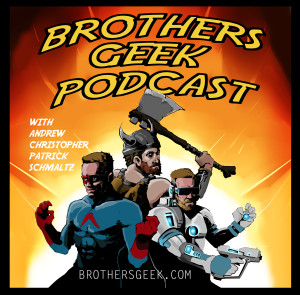 Recorded January 28th, 2015
We are joined by Special Guest Brother-in-Law Geek Shawn Bratton
Marvel News abounds!
We discuss and dissect the "Fantastic Four" trailer and argue, heatedly, about the Marvel Comics cross-over event "Secret Wars"
Seen:
Shawn brings it strong with "Battestar Galactica" re-watch.
Christopher honestly raves about "Helix" and "12 Monkeys"
Andrew syndromes about "Black Sails" Season 2 premiere
Patrick can only see the sexism in "Agent Carter" after last episode's discussion.
Read:
Chris and Patrick love "The Martian".  Seriously, it gets uncomfortable for a minute.
Shawn talks about the only comic he is reading "Thor" and recommends "The Foundation Series" by Asimov.
Andrew has fallen deep into "Dune".
Played:
Patrick continues his table top streak with "Pandemic"
Shawn gets great value for his money with "Clash of Clans"
Christopher plays lots of things.  "WoW", "Diablo" "Destiny" and "The Banner Saga"  He needs to sleep more.
Andrew plays "Destiny".  All praise him for transforming into a damn Gamer already.
Trivia:
Two "Star Trek" films, "The Wrath of Khan" and "First Contact", quote a Great American Novel.  Name the novel and author.  Turns out this is actually pretty easy.
2,541 total views