Podcast: Play in new window | Download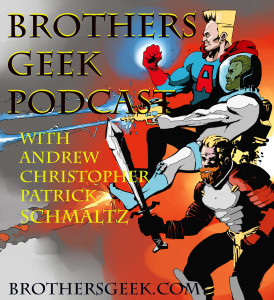 Twenty Two: Midchlorians Not Needed for Us to be Awake
Patrick gets us off and running with a new introduction.  We still laugh at him.
We have a deeply moving Thanksgiving recap from all three of us.  We are brothers after all.
Discussion topic
STAR WARS EPISODE VII TEASER DEBUTS AND IT'S AWESOME AND YES I AM YELLING AS I WRITE THIS!  We dissect it shot by shot.
"Jurassic World" trailer debuts.  It evokes the fun and wonder of the original "Jurassic Park"
Seen:
Christopher and Andrew watch "The Walking Dead" mid-season finale.  Gut-wrenching death is discussed.  Patrick watched "Big Hero 6".  Its sparked an interesting discussion of gender roles in animated films.
Read:
We all have stacks of comics to catch up on.  Christopher continues to work hard on "Batman Eternal"
Patrick and Andrew report on "Dune".  Chris does not relent.  We must read "Lord of The Rings" also to meet his definition of "geek'
Played:
Christopher reports on WoW expansion fun.  Resource Management sounds lame but it's a fun aspect of World of Warcraft.
Andrew is farming Upgrade Materials in "Destiny".  As the least experienced Gamer, he finds this incredibly tedious.  Patrick has reached the level cap of 30.  Fireteam Brothers Geek still has not run the Vault of Glass.
Trivia:
How many daily players does "Destiny" average?   The boys both overshoot
609 total views, 1 views today