Podcast: Play in new window | Download
Subscribe: RSS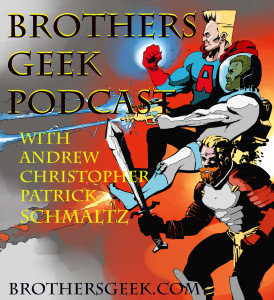 A very special episode. Patrick is in Phoenix!  We record live before an audience of family, we share nostalgic holiday memories, we recap our year in geekery, we all drink, and most importantly, Brother Daniel joins us and out geeks us in an unexpected way.
Discussed:
All share favorite holiday memory, classic holiday movies are discussed, nostalgic television is revisited, and Daniel and Christopher recount "King of the Mountain" on Grandpa Hanson's farm.  They are lucky they survived.
Favorites of 2014
Seen:
Andrew continues his love fest with "The Force Awakens" trailer.  His love of Star Wars has been re-awakened.  (That's an unfortunate pun, but necessary.)
Daniel watched the "Power Rangers Mega Force" series finale with his son Joey.  Dozens of past Rangers appear and take on the forces of Evil.
Christopher loved "The Winter Solider" also "Guardians of the Galaxy".  Both were particularly special in the MCU
Patrick will miss "The Legend of Korra".  He is behind in episodes (the series finale is online now) but is sad to see the show go.
Read:
In just three issues Christopher is loving Walt Simonson's "Ragnarok" comic.
Andrew's favorite is "the Queen of the Tearling"  The boys still make fun of him thinking it's a YA novel.  He takes it because he knows they are wrong.
Patrick sings the praises of "Dune".  He calls it "life changing"
Daniel brings it strong, impresses with my management geekery.  He read business and management books.  He schools us and we appreciate it.
Played:
Daniel played "Skylanders" and "Mario Kart 8".  He drives Toad, plays the original kart, equipped with the rainbow parachute.
Andrew describes hite story mission in "Destiny".  You get to swing a big sword.  He's happy.
Christopher raves about "Diablo III".  It hits all the right notes.
Patrick also discusses "Destiny", the co-op aspects are strongest for him.
Trivia:
How many total minutes have we recorded this year?  Christopher is right!
From all of us at the Brothers Geek, have a wonderful and safe holiday season.  We shall see you all in 2015!
1,384 total views