Podcast: Play in new window | Download
Subscribe: RSS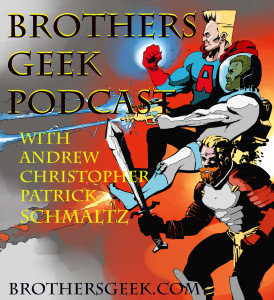 We are here and we are brothers, with varying degrees of Geekery.
Patrick has been working on a litmus test for Geek Levels.  We discuss this.  We try not to end our bond of fellowship in the process.
Seen:
Andrew watches "Gotham". this episode is slightly more fun.
Chris is digging the most recent "Doctor Who"  Interesting new directions for the Doctor and the Companion.
Chris and Andrew watch "Star Wars Rebels".  A new hope is born in them both.
We all saw "Gone Girl"  We have to stop our Fincher love fest before it becomes awkward.
Read:
Christopher and Andrew read "Batman Eternal".  They want it get on with it already.
Andrew is getting caught up on Matt Fraction's "Hawkeye"  easily one of the best monthly series out there.
Patrick gets a big stack of comics from us in the mail.  He will dive in.  He also read "Ready Player One" and poses and interesting question conceived in the novel.
Played:
All play Destiny.  We hope the drops get better.  Patrick describes a very tough raid.  The Brothers Geek Fire team needs to play more together.
Trivia: Name the two films David Fincher has been nominated for a Best Director Oscar.
Supplemental Trivia:  Chris challenges us with a Lord of the Rings character question.
2,052 total views, 1 views today